Magnetic Nail Art: How to Create Unique and Eye-Catching Designs
Nail art is all the rage right now, and for a good reason! It's a fun way to express your style and add a pop of color to your look. But, if you want to try something new, why not try magnetic nail art? This technique involves using special polishes that create unique designs when exposed to magnets. Read everything you need to know about creating magnetic nail art designs.
Magnetic nail art: how to apply magnetic polish for cool nail designs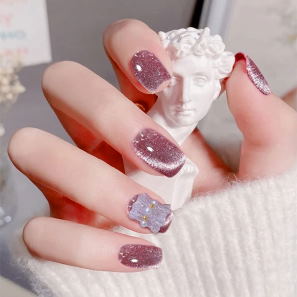 Magnetic nail art is a popular technique that uses magnetic fields to create patterns in polish. It's a simple way to add some pizzazz to your nails, and it's perfect for those who want to experiment with new designs.
Here's what you'll need to get started:
Magnetic nail polish
A strong magnet
A steady hand
Start by applying a base coat of your favorite color. Then, apply two coats of the magnetic polish, making sure to follow the manufacturer's instructions. Once the polish is dry, hold the magnet close to your nails and watch as the metal particles in the polish are attracted to the magnet and create cool patterns. Experiment with different techniques and see what works best for you. You can even use multiple magnets to create more complex designs. Just have fun and be creative!
Use a magnet to reveal amazing nail design
Magnetic nail art is a great option if you're looking for a fun and creative way to show off your personality! This type of nail art uses magnets to create designs on your nails, and it's a lot easier than it sounds. With magnetic nail art, you can create fun and unique designs, and you don't need special skills or training. All you need is a magnet and some patience!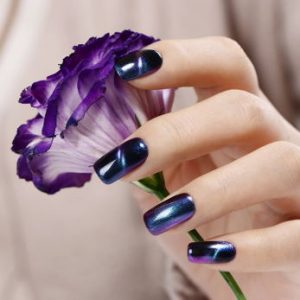 Start with magnetic nail art by painting your nails with a base coat of polish. Once the base coat is dry, place a small magnet on each nail. You can use any type of magnet you like, but we recommend using round magnets for this project. Once the magnets are in place, use a second coat of polish to cover the magnets. Be sure to use a polish compatible with the magnets, or they will not stick.
Now comes the fun part! Use your imagination to create any design you like with magnets. You can make stripes, polka dots, flowers, or any other design you can think of. Just be creative and have fun!
Once you're happy with your design, allow the polish to dry completely. Once it's dry, carefully remove the magnets and enjoy your beautiful nails!